Oh hello! You say you're looking for a handsome, young, well-rounded dog? Well, look no further! I'm Bruno! Sir Bruno, that is and I'm delighted to meet you!
I've been in my foster home now for a little while and while I really like it here, I'm excited to get my forever-adventure started.
I am about 3 years old and while I am still full of all the puppy dog energy and antics, I am equal parts mellow and chill. At first glance, you'll probably notice my unique markings and my extra-large, big, block-head (it's perfect for scratching by the way). I make fast friends, an A++ snuggler, and overflowing with love to give, so brace yourself for some serious lovin' cuz I don't waste much time with the "get to know you" small talk.
I love to play and my most favorite game of all is fetch and I really love my foster family takes me to the big open field near the house where I can stretch my legs and run. I sometimes like to pretend I am a thoroughbred racehorse, personally, I think I look like a pure-bred stallion galloping wild and free. For some reason, my foster family gets quite the giggle out of this and the tiny hoomans like to call me their "pony." Pony….pffft.
I really love the tiny hoomans though. My favorite thing about the mornings is when they come to wake me up (I sleep in my crate) and then we lay around and ease into the day together. It's very comforting to me to have a little person to look after. But really, I just like ALL the hoomans…big ones, small ones, strange ones…I haven't met a hooman I haven't liked and I'd much prefer to be around them than left alone.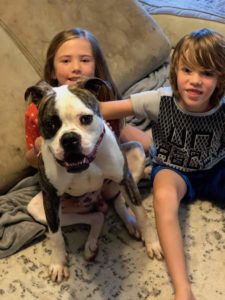 You see I even try sitting like them on the couch to blend in, hoping maybe they will forget I'm a dog and take me along to the places only the hoomans can go. It hasn't worked yet, but I guess I'm still perfecting my posture.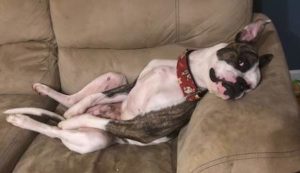 I'm pretty well behaved and have only been caught counter surfing a few times. A few stray socks might have also gone missing since I arrived, but I say "innocent until proven guilty!"
I stay in my crate when the hoomans are gone and I know a few tricks. When the treats come out, I'm "sitting" and "shaking" before you can even say the words. I will do pretty much anything for a treat, especially the chewy kind…those are my favorite. If you've got treats, I'm listening!
Here are a few fun facts you might want to know about me:
I leap like a Gazelle and can clear the stairs to the deck in one hop.
I have a "No Crumbs Left Behind" rule. You can go ahead and toss that broom and vacuum cleaner.
My best friend is my Beta Fish girlfriend. I just love watching her swim around the tank. She's really pretty.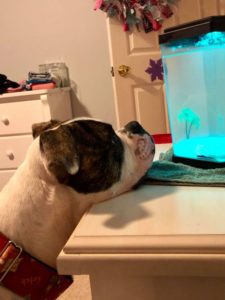 My favorite celebrity is Scooby Doo. Did someone say Scooby Snacks?
I prefer the bouncy toys to the squeaky ones. My most favorites are my spiky rubber ball and the XL tennis ball we play fetch with. And the durable toys are best, or maybe a good bone will do, cuz I've chewed through quite a few toys already.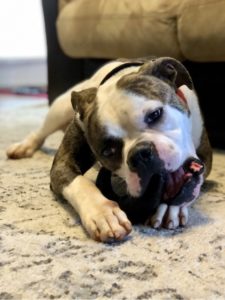 All and all, you can't go wrong if you adopt me! I'm playful, curious, and trusting. We can go on adventures, play games, or just curl up and snuggle. If you're interested in learning more or making me one of your pack, send in your application TODAY!!