Courtesy Listings are for other rescues or private owners to spread the word about other great adoptable dogs. If you are interested in these wonderful dogs please use the contact information listed with each dogs info.
These dogs have no affiliation with Blue Ridge Boxer Rescue and we except no responsibility to the accuracy of the listings.
---
   Meet Felix:
I arrived at the CBHR at the same time as my basset hound buddy Oscar. We were reported as a bonded pair, but as it turns out, we are not quite that close and I am just fine in my new foster home. I guess we were somewhat unlikely companions just like the other Oscar and Felix.
So, here's a bit about me. As you might expect for a dog my breed, age, and size I am not quite a basset. I have a lot of energy and like to play "catch and fetch." Compared to my current basset roomies I am quick. Even though I am faster and bigger, I am gentle with them. Honestly, I think they look funny and need to grow longer legs. I really like my chew toys and can be a bit persistent with my humans when it is time to play. I understand toys are for chewing and other things are not. I also will respond to commands like, "sit" and "down". How many bassets do you know that will do that?.
My foster family has really helped me with going outside and using the doggie door. I do like to loudly greet people and dogs walking by my foster's house, but my foster parents are asking me to use my inside voice. My leash training is going very well, it is just that I need to understand my own strength sometimes.
So, even though I might be a bit of a surprise in your basset quest, I am a great guy and full of life and love. I promise to sleep through the night, behave myself, and be a great addition to your forever home. Why don't you give the CBHR a call, and me a chance?
Click here to adopt or inquire about Felix.
Or contact Chuck at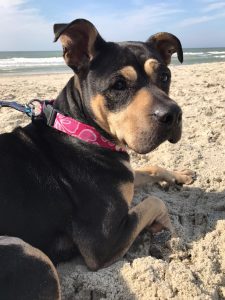 MEET CJ
Cj is a fantastic little boxer mix that was recently found as a stray. The couple that found her were hoping to keep her and make her a permanent part of their family however. Their 11 year old male was not very keen on the idea so alas they need to find a great home that will love her as much as her foster mom & dad do. CJ is very sweet and loves other doggies and has been great around children. We aren't sure about kitties. This CJ just like the Baywatch CJ has a love of the beach! So if you want someone happy to put their paws in the sand with you, CJ is your girl. Cj is just an all around great dog in need of a loving home.
Please email Sam and ref the courtesy listing with BRBR at the email [email protected]
Your not going to want to miss out on this little beach bum.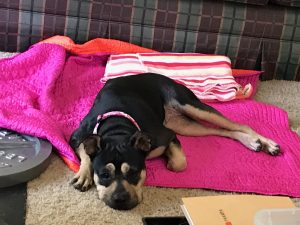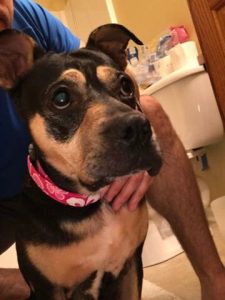 Meet Ari
With a very heavy heart I am trying to rehome my son's dog Ari. He adopted Ari 2.5 years ago while he was in college. Since then he has graduated, joined the military and will be starting medical school in July. The school is telling him that he will be in the lab or class 60 hours a week plus his military commitment makes taking good care of Ari impossible. This sweet boy is a boxer/plot hound mix and weighs 50 lbs. He is UTD on all shots, heart worm medication and neutered. He is good with dogs his size or bigger and same energy level but has done fine being an only dog. He hasn't been around cats or small children.
While I'm not charging a rehoming fee I will check vet references and that the home has a fenced in yard.
Please reach out to me if you are interested and please share! [email protected]om, Charlotte, NC. I will transport as far as needed!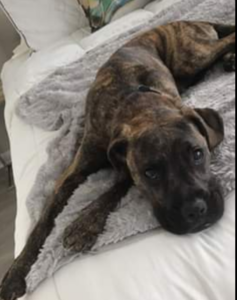 Meet Jojo
Due to changes in our circumstances, we need to with great regret re-home our 6 year old boxer mix, JoJo. She is friendly to all people, including children. JoJo is leash and obedience trained, house broken and can be left alone in the house without supervision. She is trained to an invisible fence and uses a dog door. She is UTD on vaccinations and heartworm preventative medication. Needs to be the only dog as she is overly dominate. She is fine in a car for short trips to town, but gets nervous on long trips. She is a real sweetheart! Likes to be scratched, loved on and with her people.
If you can provide a good home for JoJo, please contact Carol Smith at
[email protected]
or 828.734.9069. No fee will be required. We live in Waynesville, NC.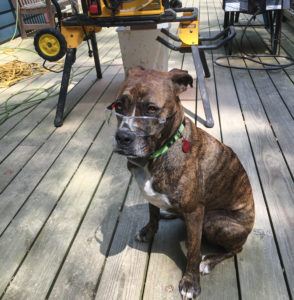 Meet Rocky & Fuzz

We have 2 boxer bulldog mixes that are the sweetest things that we have had for almost a year that we have not had the first application for.  They are both 9 years old and were HW positive when we pulled them.  They are going through the slow kill method.  we will not charge any fees for them and we will donate a year supply of heartguard plus for each of them as well.  They do LOVE each other and we have pictures of them as well.  They are great with dogs and all people. Please contact Jason Benge Piedmont Animal Rescue 
E:
[email protected]

com Or call 
M: 9804343836 | W: 7043604262