Courtesy Listings are for other rescues or private owners to spread the word about other great adoptable dogs. If you are interested in these wonderful dogs please use the contact information listed with each dogs info.
These dogs have no affiliation with Blue Ridge Boxer Rescue and we except no responsibility to the accuracy of the listings.
---
   Meet Dixie Rose:
Dixie is a high arousal boxer who likes to play roughly. What begins as play escalates quickly to aggression. She demand barks when she is not getting attention and shows signs of separation anxiety when the owner has attempted to crate her. She needs a quieter home with more structure and fewer distractions. When she is solo with her owner, she is snuggly and social. She is very affectionate and loves toys, especially balls, squeakies and stuffies.  She would do best in a home with boxer experience and probably best with no children or older dog savy kids.
Dixie is currently still living with her owner while she attempts to rehome her. The owner has asked for the RHSPCA's help in reaching out to rescues. If you're unable to help, would you consider doing a courtesy post on your social media or website?
Please contact
Jo Benjamin
Adoption/Rescue Coordinator
Rockingham-Harrisonburg SPCA
540-434-5270
rescueinfo@rhspca.org
MEET Bella & Leila

Both dogs are about 6 years old and females. They are inside dogs and accustomed to using a doggie door. Both are incredibly sweet and quite
loyal. They are good with all kids they have been in contact with. Cats are not suggested due to lack of exposure.
Leila (boxer mix) is light brown. She is on meds for spay incontinence but the meds are effective and there are no indoor accidents. She also has some skin allergies that she takes Benedryl for.
Bella (boxer) is dark Brindle in color. Bella has no ongoing health issues. She has had surgery to repair torn ACLs on both legs and has recovered fully.
Both girls come from a loving home and are only being re-homed due to a major life change.
References will be required to ensure their safety.
Contact Mary Ellen Fischer @ (864) 617-5536 and leave a message.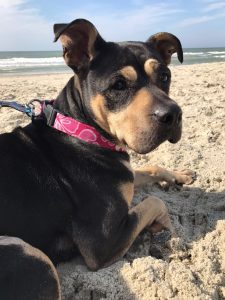 MEET CJ
Cj is a fantastic little boxer mix that was recently found as a stray. The couple that found her were hoping to keep her and make her a permanent part of their family however. Their 11 year old male was not very keen on the idea so alas they need to find a great home that will love her as much as her foster mom & dad do. CJ is very sweet and loves other doggies and has been great around children. We aren't sure about kitties. This CJ just like the Baywatch CJ has a love of the beach! So if you want someone happy to put their paws in the sand with you, CJ is your girl. Cj is just an all around great dog in need of a loving home.
Please email Sam and ref the courtesy listing with BRBR at the email sns28097@gmail.com
Your not going to want to miss out on this little beach bum.