Courtesy Listings are for other rescues or private owners to spread the word about other great adoptable dogs. If you are interested in these wonderful dogs please use the contact information listed with each dogs info.
These dogs have no affiliation with Blue Ridge Boxer Rescue and we except no responsibility to the accuracy of the listings.
---
Meet Aussie & Jake: URGENT NEED – Owner is Terminal

Aussie (white) and Jake (fawn) are two super sweet boxers in desperate need of a new home. Their owner his terminally ill and needs to re-home them preferably together very quickly. They have been together their whole lives. They are 5 to 6 years of age. In great health, need to loose a few pounds but Up to date on shots and currently on HW preventative, neutered etc. They have been very well taken care of and loved. They are not kitty friendly and would do best with older children 10 and up dog savy kids as they are a little jumpy. They just love new people and are very friendly dogs. They have not been around other dogs very often so probably best as only dogs or to slow introduce to your back. They are crate trained and well mannered in the home.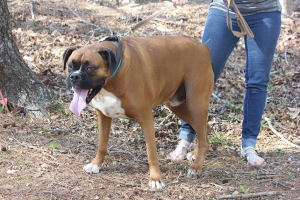 If you are interested in these two super sweet boys contact Melody.    melodyltate@gmail.com
---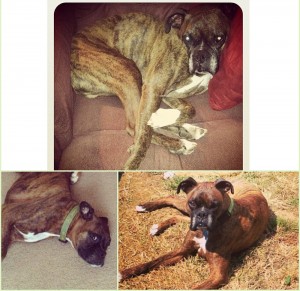 Meet John:
This is John. He is a 10 year old full blooded boxer who we rescued in 2008. He had a pretty rough life before coming to our home then. He is blind in one eye due to his abuse prior to coming to us; but otherwise a
very healthy active boy. He is an indoor dog, who loves to have his outdoor time too,so a fence would be necessary.He doesn't like being in a crate, but is
house trained and does ok hanging out with his fursisters in house loose. I get along great with my female friends but I tend to be dominant with male dogs. I've never been around cats, so I wouldn't recommend starting now. I would discourage him going to a home with small children, although I've been around my human sister,who is 6 six,since she was born.
He is located in Albemarle, NC. Please contact me, Emily Smith, at 980-581-1164 or email at mrs.esmith07@yahoo.com
---
Meet Bella:
Bella she is a boxer/lab mix. She is about 6 months old.  Bella is a really good dog, she gets along very well with the other 6 dogs in her foster home. She is heartworm negative and is up to date on all her shots and is spayed her adoption fee is $100. Her foster dad is George please call this number is 864-770-3419 if you are interested in adopting this adorable little boxer mix. Or you can also email him at heavenonearthdogrescue@yahoo.com
---