Courtesy Listings are for other rescues or private owners to spread the word about other great adoptable dogs. If you are interested in these wonderful dogs please use the contact information listed with each dogs info.
These dogs have no affiliation with Blue Ridge Boxer Rescue and we except no responsibility to the accuracy of the listings.
---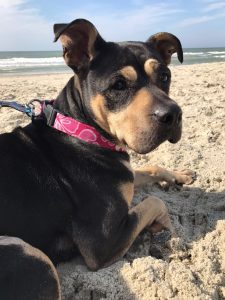 MEET CJ
Cj is a fantastic little boxer mix that was recently found as a stray. The couple that found her were hoping to keep her and make her a permanent part of their family however. Their 11 year old male was not very keen on the idea so alas they need to find a great home that will love her as much as her foster mom & dad do. CJ is very sweet and loves other doggies and has been great around children. We aren't sure about kitties. This CJ just like the Baywatch CJ has a love of the beach! So if you want someone happy to put their paws in the sand with you, CJ is your girl. Cj is just an all around great dog in need of a loving home.
Please email Sam and ref the courtesy listing with BRBR at the email sns28097@gmail.com
Your not going to want to miss out on this little beach bum.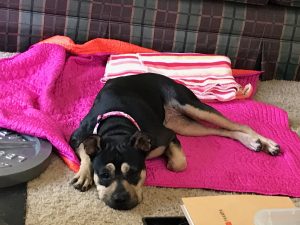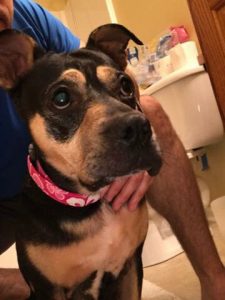 MEET NEWMAN
Newman was found a couple of months ago and has been in foster care since. We recently learned that he has cardiomyopathy. He is on two different meds and they are meds he'll need to be on long term. He also has to have 3cups+1 cup of puppy food 2 times a day to maintain his current weight of 77.9.  He is neutered, current on shots, heartworm negative, and chipped. He is a boxer and estimated at 6-8years. He does have some separation anxiety and would do best with a stay at home person or family or in a home with a confident dog.  He is such a lover, a typical boxer who just wants to be with his people. He likes short walks, playing in the creek, playing ball, or snuggling in your lap. He also likes to go down slides. He loves to French kiss. He won't hesitate to slip his tongue down your throat. 🙂  Newman is dog friendly.
Since his condition reduces his chances of adoption, we are waiving his fee. However, our regular screening process still applies and you'll have to show proof of your financial ability to meet his medical needs. If you are interested in this handsome boy, please email 
madisonlandfound@gmail.com
 for an application.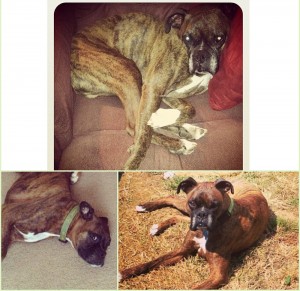 Meet John:
This is John. He is a 10 year old full blooded boxer who we rescued in 2008. He had a pretty rough life before coming to our home then. He is blind in one eye due to his abuse prior to coming to us; but otherwise a
very healthy active boy. He is an indoor dog, who loves to have his outdoor time too,so a fence would be necessary.He doesn't like being in a crate, but is
house trained and does ok hanging out with his fursisters in house loose. I get along great with my female friends but I tend to be dominant with male dogs. I've never been around cats, so I wouldn't recommend starting now. I would discourage him going to a home with small children, although I've been around my human sister,who is 6 six,since she was born.
He is located in Albemarle, NC. Please contact me, Emily Smith, at 980-581-1164 or email at mrs.esmith07@yahoo.com
---
Meet Bella:
Bella she is a boxer/lab mix. She is about 6 months old.  Bella is a really good dog, she gets along very well with the other 6 dogs in her foster home. She is heartworm negative and is up to date on all her shots and is spayed her adoption fee is $100. Her foster dad is George please call this number is 864-770-3419 if you are interested in adopting this adorable little boxer mix. Or you can also email him at heavenonearthdogrescue@yahoo.com
---